It's that time of year again, when I find myself stuck for new ideas for Teacher presents and so turn once more to the old favourite, hence today became my annual Peppermint Bark Making Day.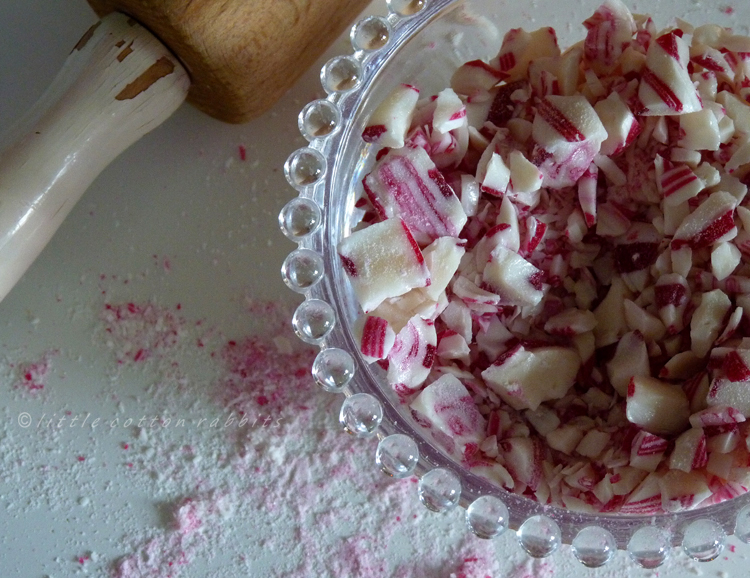 It's a nice thing to make, though a bit sticky and resulting in lots of washing up but it always seems to be well received, so this year I made lots. I thought I'd share my method and quantities with you in case you'd like to make some - it's great for last minute gifts and very easy and safe to do with children. The original recipe that inspired me is here but over the last few years I've adapted it to readily available UK ingredients:
To make around 60 squares (of approx 1 inch), you will need:
5 bars of Green and Blacks organic white vanilla cooking chocolate (150 gm bars)
2 bars of Green and Blacks organic dark cooking chocolate (150 gm bars)
7 tablespoons of double cream (a 220ml pot is more than enough)
1-2 teaspoons of peppermint essence (put one in and taste before adding the second spoon as it depends on the extract that you use - they seem to vary greatly in strength)
A pack of candy canes (they need to be fresh - don't make the same mistake as me and attempt to use some left over from last year, as you'll find they've gone all soft and sticky)
A baking tray (around 37cms x 27cms) lined with greaseproof paper
two bowls for melting chocolate in - 1 for white and 1 for dark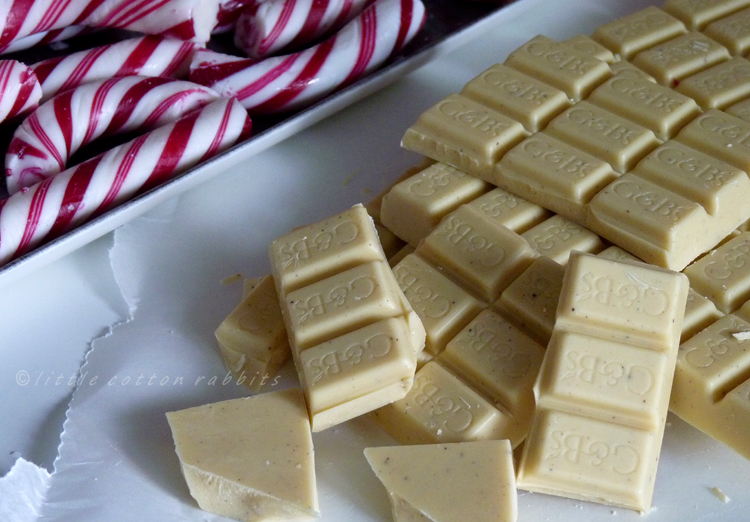 Method:
Crush your candy canes (see picture at the top). I pop mine in a bag and smack hell out of them with an old rolling pin (which is also good for letting off a bit of steam, though be warned it did dent the rolling pin). You'll find that you get varying chunk sizes plus a fair bit of dust - I find it useful to pop it through a colander to sieve out the finest dust and then crush down any bits that are too big. Set aside the finest dust crushings (as these can go on top of the middle layer) and save the little chunks for the topping.
Melt half of the white chocolate (2 and a half bars) by breaking into small pieces, placing in a heatproof bowl and microwaving on medium heat for short periods at a time. Keep getting the bowl out to check on it and stir the chocolate with a spatula when it starts to show signs of melting. Once it is just over half melted you don't need to keep heating it but instead just keep stirring and the warm liquid chocolate will encourage any remaining lumps to melt down.
Once the chocolate is completely melted pour it onto the greaseproof lined baking tray and spread out into a thin and even layer. One year I used tin foil but it was a nightmare to get off the bottom of the finished slab and you don't want to nibble strips of foil along with your bark.
Pop the tray in the fridge and go off and do something else for half an hour or so until it is fully set. There's no need to wash up the bowl as you'll be melting more white chocolate later.
Now make the ganache filling by melting the dark chocolate, peppermint extract and cream, heating it gradually (in the same way as the white chocolate) and stirring until it thickens, which it will do suddenly.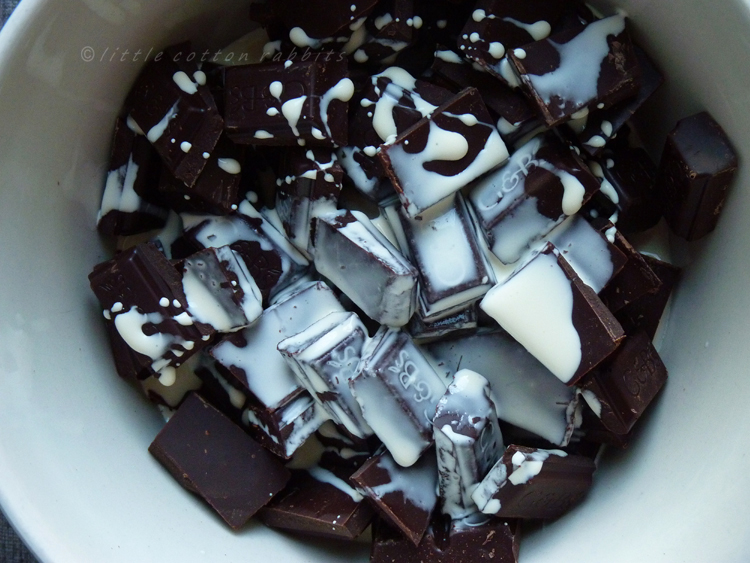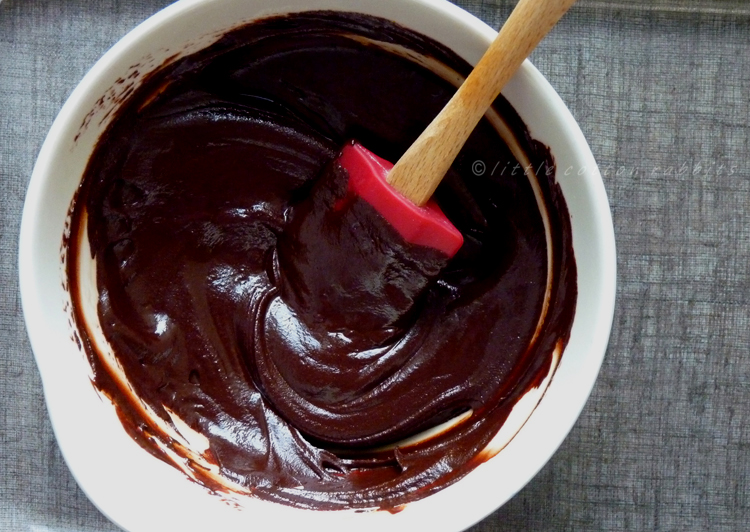 Let it cool slightly for 5 minutes and then spread it thinly over the chilled white chocolate layer - you might find you don't need all of the mixture. You'll need to work quickly as the cold white chocolate will begin to set the mixture. I sprinkle this layer with the fine candy cane dust (not too much or the top layer won't bond and will come apart when it's cut - she says from experience!) and then pop it in the fridge again for half an hour or until the dark layer is set.
For the final layer melt the remaining white chocolate and pour it over the dark layer - spread it quickly and gently to try and avoid melting the dark layer below and mixing it in which would give you a streaky top! Sprinkle the candy cane chunks over the top while the chocolate is still soft and press them lighly in so that they stay attached when the chocolate sets. Pop the whole thing back into the fridge for an hour or so to fully harden.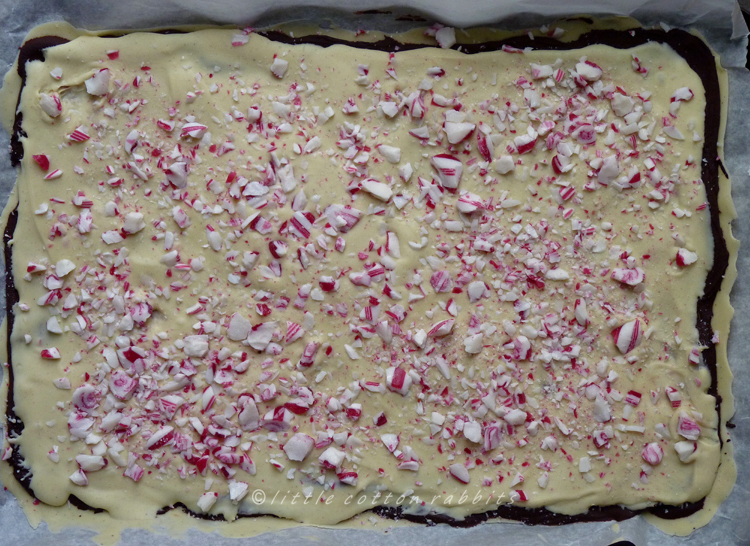 When it is fully hardened trim off the edges (which are the cooks privilege to nibble on) with a sharp knife and cut the slab into squares of about an inch.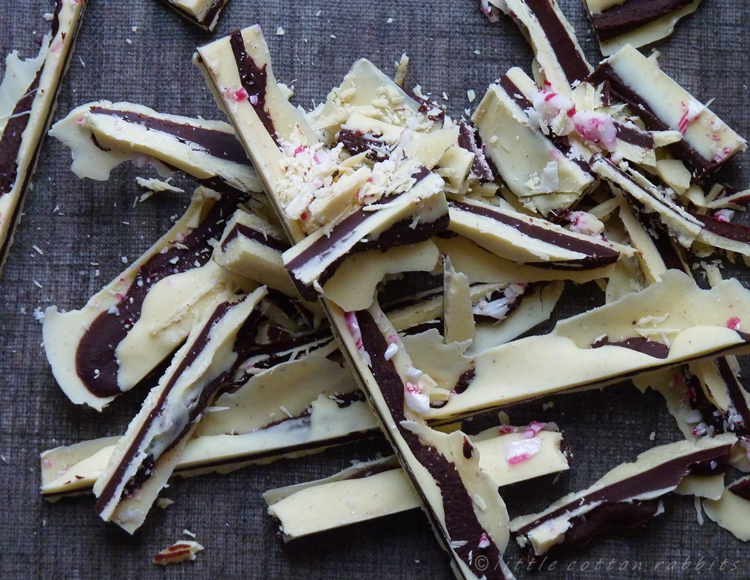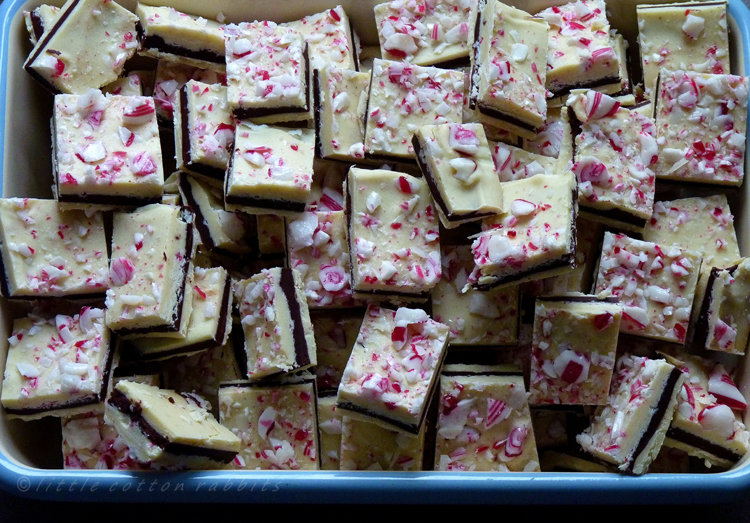 According to the original recipe it will keep for around 2 weeks, not that it gets the chance to around here!
It's nice to take a bit of time planning your packaging and I like to make some labels and use some red and white butcher's string to attach them. If you'd like to print some out here is a simple set. Download Peppermint bark labels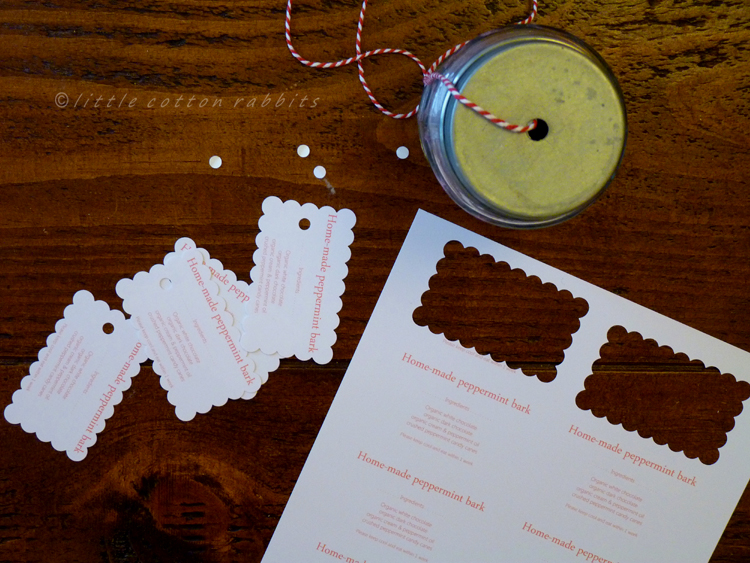 You can either present your gifts in clean glass jars, which I've done previously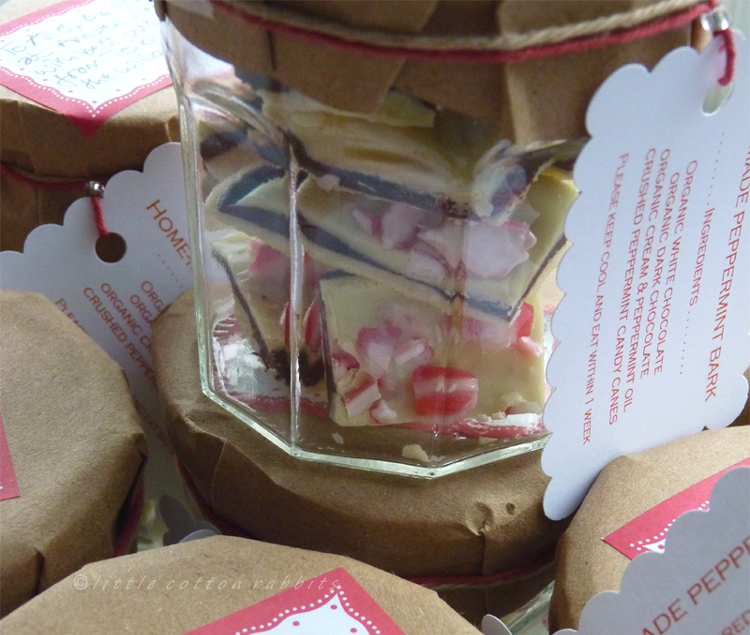 or in paper bags, which I'm using this time as they are safer to send into school in Toby's back pack.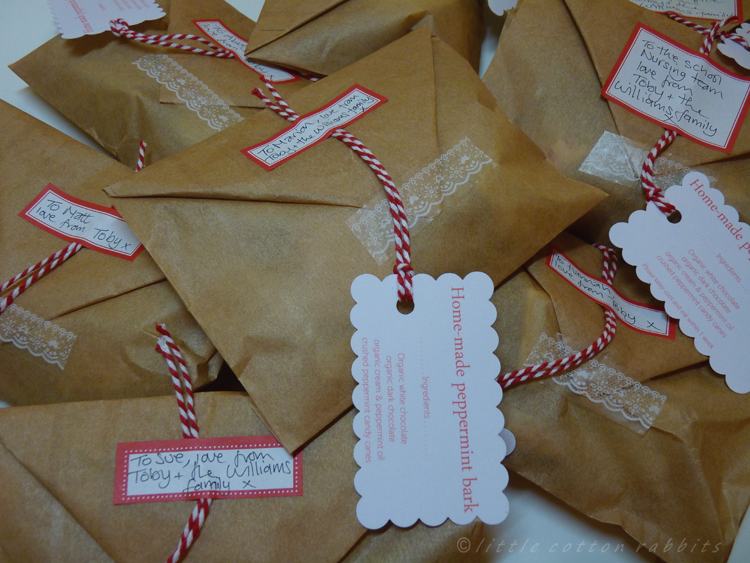 If you give the recipe a go, I hope you have fun making and gifting the bark and enjoy a little of it yourself too x