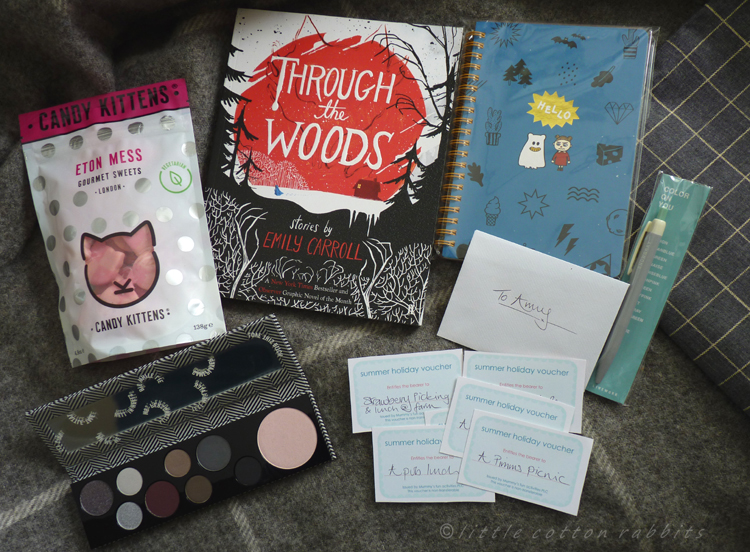 Well, I'm now the mum of a school leaver! Amy had her last A level exam yesterday and has officially left school.
When she was younger I used to love putting together a little summer holiday kit which I'd give to her when she got home on the last day of school term (here's some from earlier years: 2011, 2010, 2009). They were full of treats and fun things for the summer ahead and included a little collection of vouchers for activities that she could cash in with me. I've not done one for the most of the years that she's been at senior school as I felt that she thought it too babyish, but as this is the last summer before she goes off to uni I thought I'd re-instate the tradition, but with a teenage twist.
I'm using the same 'vouchers' that I made when she was 9 and am updating them with more suitable activities :
Pub lunch; Pimms picnic; walk in the woods followed by lunch at a local hand-made burger place; shopping trip... and it wouldn't be summer without strawberry picking, so there will definitely be a voucher for that too.
If you want to make some vouchers for your own children (no matter what their ages) there's a downloadable print-out that I made here: Download vouchers
It does feel odd to think that she'll not be living here from September. I'm not yet sure how I feel about that - it's an unfamiliar mix of excitement for her, mingled with concern, worry and hope. Like I say, an odd mix of feelings that I've not felt before. I'm certain that it's right for her to be going off to Uni and where she's going is the perfect Uni for her - it has such a friendly atmosphere and is not too big but it's got a vibrant student life and is only just outside London so she has many options for her free time. Anyway, life is speeding ahead so it will be here in an eye blink.
My other little family is doing well. The second nest-ful of robin chicks has fledged, though not as successfully this time. Two didn't make it, one dying during fledging probably due to an awkward landing and one was left dead in the nest. Of the three that have fledged two are still living in the garage and show no sign of wanting to leave, even though they fledged from the nest over a week ago. Meanwhile Mrs Robin has built a third nest - this time between two cans of paint on a shelf and Mr Robin is doing a good job of keeping his new offspring well fed, with a little help from me. I am so enjoying being a part of their little family and still find it a great privilege to be so trusted.
In knitting news I am still working on a new pattern, but progress is slow. I'll keep you posted here when it's ready and I also have a big batch of spring summer animals here that need my attention too - I'm not doing very well with time management at the moment and I think that I've had a harder time with Amy's a levels than she has! Hopefully I'll be feeling a little less anxious and a little more focused now they're all done.